QMS – IMPLEMENTATION OF A QUALITY MANAGEMENT SYSTEM
Quality management system (QMS) is a documented system which demonstrates that the requirements of the customer, stakeholders and legislation for a product or service provided are identified, understood and met. Processes in the organization are monitored, measured and set up effectively. Risks and opportunities (new requirement ISO 9001: 2015) are managed in order to achieve the desired results, increase the desired effects, prevent side effects and achieve improvement. For all organizations, the implementation of a quality management system is a key part of business processes.
REASONS FOR ORGANIZATION TO IMPLEMENT QMS
QMS IMPLEMENTATION BENEFITS
The solution of this issue requires an appropriate systemic and comprehensive approach, therefore the basic guide for this area is the ISO standard ISO 9001. In 2015, a new revision of this standard was published. Its goal is to incorporate new knowledge in the field of quality management and transition to a unified structure according to Annex SL. This structure has been in use since 2011 and contributes to the clarity and identification of common requirements. Many organizations use more than one management system and  when building an integrated management system, using an uniform solution to the common requirements of ISO standards is appropriate. Our team of consultants is ready to provide you with support in every single step of the successful implementation of QMS, including possible preparation for certification.
– Complete implementation of the QMS quality management system
– Analysis of processes and the current state of your organization
– Defining the parts of your organization that should be certified
– Providing advices on the interpretation of the standard
– Identification of areas for improvement
– Pre-certification audit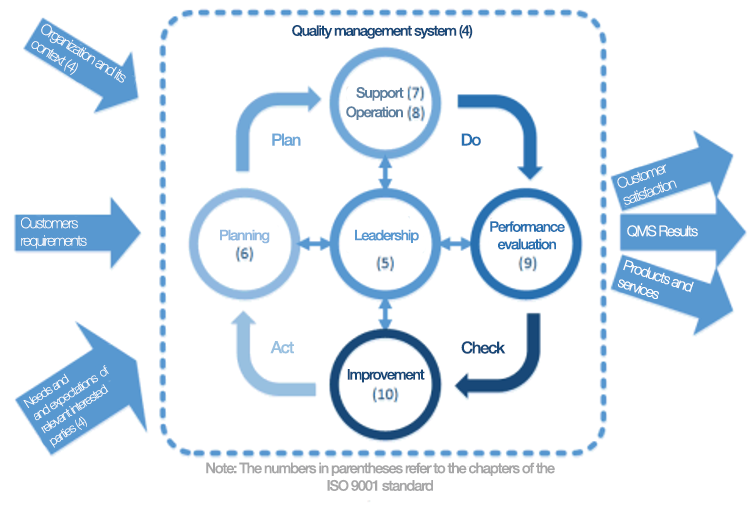 – Complete implementation of the QMS quality management system
– Analysis of processes and the current state of your organization
– Defining the parts of your organization that should be certified
– Providing advices on the interpretation of the standard
– Identification of areas for improvement
– Pre-certification audit